RCPS Statement on Non-School-Sponsored Event Being Held at Central Elementary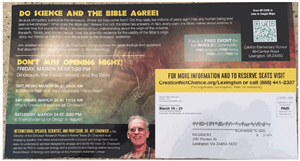 Dear Community Members,
I write to clarify what has been misunderstood by some in our community. Many may have received a flyer similar to the one depicted above about a series of programs being held in the gym at Central Elementary School (CES) on Friday night and Saturday next week.
Central Elementary School and Rockbridge County Public Schools is not in any way endorsing, promoting, or sponsoring these events, the ideas and beliefs conveyed during the events, any materials or other content provided during the events, or this organization; and makes no representation regarding the content or quality of the services, materials, or activities provided. These non-school-sponsored events, like non-school-sponsored events of many other non-school organizations, are permitted during non-instructional hours in school buildings pursuant to our Community Use of School Facilities policy.
We apologize for any confusion the advertisements may have caused. Should you have any questions, please feel free to contact our main office.